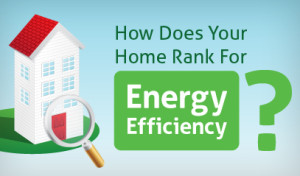 For most homeowners, enhancing HVAC energy efficiency in their homes is a major concern. This is crucial because heating, ventilation and air conditioning systems consume the highest percentage of power consumption in every home. A home energy rating is an incredible tool that can help you assess your home's energy efficiency so as to take the necessary steps to reduce energy consumption.
What is Home Energy Rating?
This is an in-depth and comprehensive assessment of the energy efficiency in your home. It is an exercise carried out based on the standards of the Home Energy Rating System (HERS) index, a recognized scoring protocol across United States for measuring residential energy performance. HERS is under the supervision of the the Residential Energy Services Network (RESNET).
During the evaluation process, a RESNET-certified home energy rater will gather all the necessary data about energy usage in your home. Using specially designed software, he will compare your home date with an imaginary reference home with the same shape, size and type as well as climatic conditions.
You will get a numerical rating that reflects the state of your home efficiency in comparison with the reference home. The detailed report shows areas of energy wastage and provides recommendations on improvements and upgrades that need to be done so as to enhance your home's energy efficiency.
The lower the score your home is assigned, the greater is its energy efficiency. Homes that use wind and solar energy receive the lowest ratings.
Home Energy Rating Process
In the evaluation of your home's energy efficiency, the RESNET-certified home energy rater conducts several tests including infrared scans, combustion analysis, blower door test and duct leakage test. These tests are important because they show:
• Any air leakages from the HVAC unit's air ducts
• The effectiveness of your ceilings and walls insulation
• Functionality and the safety of the combustion device
• The efficiency of the water heating system
• Energy efficiency of your HVAC system
• The functionality of the thermostat
• Lighting efficiency
Benefits of Home Energy Rating
There are numerous benefits that come with energy audits in your home because you will discover where and how your home is using energy inefficiently so that you can know what to do to rectify the situation. Some of these benefits are:
Increased Energy Savings – The detailed and comprehensive report you will get from the professional will show you cost effective upgrades and improvements you need to carry out in your home to ensure your HVAC systems run more efficiently. This will in turn significantly lower your energy bills thus saving you money.
Enhanced Home Comfort – Leakages in your HVAC system can make your home uncomfortable by affecting the quality of your indoor environment. A home energy rating exercise will point out areas with leakages and propose effective sealing options that will boost the comfort of your home.
Improved Resale Value of Your Home – According to a study published by the Appraisal Journal, for every $1 reduction in annual energy bills, the market value of the home increases by approximately $20. What this means is that by reducing your energy costs by around $300 in a year, you will be indeed increasing the value of your home by $6,000. Therefore, a home energy rating exercise is a worthwhile investment because you will be able to know the areas that require improvements in order to significantly lower your energy costs.
A home energy audit is therefore a wise investment for all homeowners since it can earn them a return on investment of around 16% per year.
Learn more about Coral Springs Air Conditioning solutions to improve your home energy rating. Give us a call today at 954-606-6876.